You are here:
Home
:
BCU 8 | 2006
:
Editor's Note

For an audiophile like me, the internet is truly a wonderful thing. Now, with a few clicks of a mouse, you can sign up for a Podcast and have interesting content delivered right to your iPod on a regular basis. Even better, you can also quickly, easily and inexpensively distribute audio programs to hundreds, dare I say thousands, of people around the world. To take advantage of the benefits of this powerful technology, our CME group has begun to offer all of our audio series for internet downloading and as Podcasts, but even more importantly, we have also started to produce unique programs available only through the web.
Our first attempt in this interesting endeavor is called Heart of Oncology (HeartofOncology.com) and it will include a compilation of some of the most compelling human moments from our interviews and meetings. What makes this program unique is that it does not focus so much on management issues or treatment choices but rather on the most fundamental aspect of our profession: the personal side of cancer caring. Below, you will find a few comments from the first posting of The Heart of Oncology. This particular interlude occurred during a recent "Meet The Professors" (MTP) recording session held in Manhattan with 12 local oncologists and faculty members Drs Hy Muss and Sandra Swain.
Dr Jeff Vacirca had just presented the case of a 32-year-old woman diagnosed with metastatic breast cancer while she was 26 weeks pregnant. The patient received chemotherapy, but at 31 weeks, the disease was progressing rapidly and she was having significant tumor-related symptoms.
Hours before the MTP meeting, an apparently healthy daughter entered the world by emergency cesarean section, causing Jeff to arrive at the event seeking suggestions regarding therapy for the new mom. After reviewing a number of palliative treatment options, the discussion turned to the deeply human side of this case, including the toll treating these types of patients can take on oncology professionals. Please let us know what you think.
— Neil Love, MD
NLove@ResearchToPractice.net
December 15, 2006

DR MUSS
:
As an oncologist, I don't think you ever get used to being in this type of situation, and perhaps if you do, you need to be doing something else. I call these "two-scotch nights," and I have had a fair amount of them. It helps to have good colleagues and friends reassure you that you've done your best and to empathize with you, but I don't think you ever quite get used to it.
I also think oncologists are a preselected group — including all of us around the table. If you get into your fellowship and you see these patients and you really can't handle it, you get out. In my career, I've had fellows come in and, six or eight months later, leave the program. It's rarely ever academic ability. It's just dealing with these kinds of patients.
So I think that we are preselected, that we probably like high-impact medicine and that we might not be very happy in the acne clinic. We get a lot of sharing and help from our friends, but we never get used to it. And the hardest thing is, you'd think with all the tools we have, we'd be doing better, but I'm not so certain how much more we're helping people with metastatic breast cancer.

DR SWAIN: Over the years, I have really felt that it was important to develop a relationship with patients and find out what's important to them. So I try, even on the first visit, to find out what is important to them. Is it their grandchild, or their husband, and what do they need?
I then follow them throughout their whole course. I've seen, as many of you have, some physicians who can't deal with that, and they basically abandon their patients. I feel that one of my strengths is that I don't do that. I really can help them at the end, help them to try to cope. The way I put it to a lot of patients in the beginning is that, in a way, it's a gift because it's a gift of time. If you go into the street and get hit by a bus, you don't have any time. You don't prepare. This way, you have time — you can make the best of your time. So I try to work with a patient on that. But I agree — it is very hard.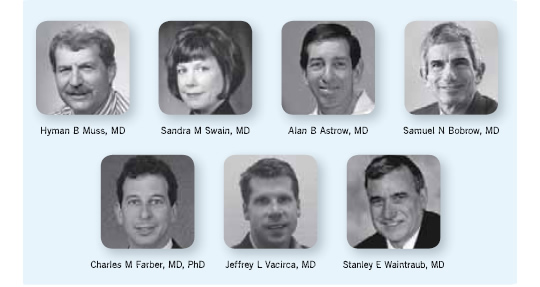 DR ALAN ASTROW:
A few years ago I organized a series of interfaith dialogues about spiritual issues and medical care, and we had one about sadness, in which we had a dialogue between a Franciscan friar — a well-known scholar by the name of Richard Rohr — and a rabbi from UCLA, named Chaim Seidler-Feller.
I think about it a lot because what Rohr talked about was how important it is to get out of "the fixing mode." How I translate that into common-sense advice is that, often, doctors and nurses faced with a difficult situation jump into reassuring the patient too soon. What Rohr said, and other physicians and psychiatrists have said this, is that you don't want to try to fix initially. The first step is to allow the person to express his or her emotions and to empathize.
What the rabbi said was also interesting. He said that in the Hasidic tradition, there is this view that you're commanded to be joyful. So what I got out of that is that you follow the patient into their sadness, you get out of that fixing mode, but then you remember that you're actually commanded to get that patient out of their sadness. You're commanded to be joyful and to try to find some way to get the patient out of their sadness. I find that a useful way to think about it.

DR LOVE: Where does humor fit in, if at all?

DR CHARLES FARBER: I'm in a relatively large oncology group. There are nine other physicians, and we use a lot of black humor — things that are totally inappropriate, that you'd never want anyone to hear. It's a way we deal with it, and a lot of times we laugh so we don't cry. We just look at the absurdity of many of the situations, and it helps me get through the day.

DR SAMUEL N BOBROW: One way I deal with patients is to help them focus on the here and now. You can't deal with metastatic breast cancer wondering whether you're going to live two years, three years or four years, but you can focus on now and feeling well and doing what you want to do — travel, enjoy whatever you like to do. The future will come.

DR STANLEY WAINTRAUB: I always look at who comes in with the patient. Most of the young women I take care of — and we all have a lot of young women with metastatic breast cancer — don't come in with their husbands. They come with their friends. I always say to them, "Who's your support system?"
If they come alone, that's very bad. If they don't come with their husband, there's something wrong. We also have psychiatric social workers in the office, and I want them to talk to the husband. I want to know where the husband is. Is he in denial? Is he angry? We all forget about the spouse. I'm very interested in who comes with the patient. When I give you bad news, I want to know who's going to hold your hand.
| | |
| --- | --- |
| | |