You are here:
Home
:
BCU 6 | 2006
:
Editor's Note

You are a tanned, fit, much-published clinical investigator specializing in prostate cancer. You just turned 60 and are in the peak of health. Yet within the span of two years, you have your prostate yanked out, a PSA recurrence and nine miserable months of pelvic radiation and combined androgen blockade. Your PSA becomes undetectable, but three years later it's back and doubling every three months, the strongest known predictor of prostate cancer death. You can go back on hormone therapy, but it's unlikely to provide long-term tumor control and you hated life as a chemical eunuch.
In 2000, when our CME group launched a prostate cancer audio series for urologists and radiation oncologists, Eastern Virginia Medical School urologist Dr Paul Schellhammer was one of the first investigators we invited to our offices in Miami for an interview. Paul agreed, hopped on a plane and spent a day as a visiting professor helping to bring us up to speed on the intricacies of this unique disease. However, his visit instantly became one of the most profound and deeply moving experiences of my career when he began our conversation by relating his recent travails as a prostate cancer patient.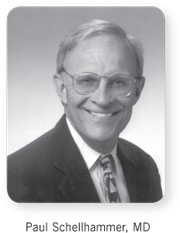 Since that time, Paul and I have caught up every year or so to update our national audience on his progress. During the most recent interview this summer, he related the excruciating dilemma described above, and to my surprise, rather than take the traditional route of androgen deprivation therapy, he had just entered a Phase II ECOG trial examining the role of lapatinib.
Lapatinib for prostate cancer? Why not? This agent has minimal toxicity (mainly skin rash) and perhaps Paul will be as fortunate as the women discussed by Dr Charles Geyer on this issue of Breast Cancer Update, who took a chance and entered a study randomly assigning patients with HER2-positive breast cancer progressing on trastuzumab after prior anthracycline and taxane therapy to capecitabine alone or with lapatinib.
The findings in this heavily pretreated population are very encouraging. On average, patients receiving the combination experienced more than a doubling in time to progression. I haven't heard much about an anti-HER2 approach to prostate cancer, but the point of this narrative is that both laypeople and highly informed patients like Paul Schellhammer are looking for innovation and the opportunity to perhaps be on the earliest wave of the next generation of targeted agents, just like the thousands of women who participated in the adjuvant trastuzumab trials hoping to avoid relapse.
Along the same train of thought, in this issue, Dr Marc Lippman talks about the translational approach to oncology that he has been enthusiastically championing for more than three decades. Marc has always loved pushing emotional buttons, particularly when he's right, and during this most recent interview, he issued forth the following fireworks:
"It's thrilling and exciting to go to cancer meetings these days and see such a broad array of exciting activities, any one of which one could imagine having a specific transformative event on the disease. Whether or not you've spent your life doing angiogenesis or apoptosis or DNA repair or drug delivery, there's enough excitement and good work going on to imagine any of those approaches succeeding.
In terms of barriers to moving forward, many are political and economic. We are still a disaster as a nation and as a world in putting patients on study. It's extraordinarily unfortunate that so few patients even to this date participate in trials. I'm deeply concerned about the substantial reduction in the federal budgets, despite the funding available from pharmaceutical companies. The major intellectual engine that drives cancer research is still academic in origin and then licensed or, in other ways, developed by the pharmaceutical industry.
We're playing with fire right now to look at a flat or decreasing NIH budget, and that has ramifications not only in terms of actual investigations but also, what I see every day as Chairman of Medicine, in terms of decreased enthusiasm for an academic life. People don't want a life with this level of uncertainty, and I'm afraid we will lose a generation of the kinds of translational and clinical investigators that will be essential to driving this process forward. That would be a disgrace."
— Marc E Lippman, MD
It might just be time for cancer advocates to step in here. (Lance, are you out there?) The squeaky wheel gets the whatever. Putting the funding issue aside, there's another piece of the puzzle that truly has the potential to change the management of this disease, and that is the long-awaited NSABP-B-40 neoadjuvant trial (Figure 1), discussed by Dr Geyer on this program. Norm Wolmark and his NSABP warriors have been pushing this new-age approach to translational research through the morass of federal bureaucracy for more than three years, but finally it is about to happen.
The groundbreaking B-40 trial will generate answers years earlier and with fewer patients than adjuvant and neoadjuvant trials focusing on the traditional endpoints of disease-free and overall survival. The study will look primarily at pathologic complete response and tissue predictors of response to three different chemotherapy regimens alone or with bevacizumab. Cliff Hudis tells me that the CALGB and other Intergroup member groups are also shifting their emphasis toward neoadjuvant trials, particularly to identify active new agents quicker. Based on how patients like Paul Schellhammer view molecular targeted therapy, there is perhaps a rationale for optimism that trials like B-40 (and prior efforts such as Jenny Chang's neoadjuvant trastuzumab study in locally advanced disease) will significantly accelerate progress.
As more targets and targeted agents become available, we will also confront more complex acronyms for regimens. I like the sound of lapatinib with capecitabine: "Lapcap," "Lapacape" or the more concise "LC," and I will go on record with this prediction: In 2010, the most common adjuvant therapy for node-positive breast cancer patients with ER-positive, HER2-positive tumors will be dose-dense AC

nanoparticle paclitaxel/trastuzumab/capecitabine/lapatinib/aromatase inhibitor/fulvestrant ("ACATCLAF"), which at least sounds less threatening than R-HyperCVAD or PROMACE CYTOBOM.
— Neil Love, MD
NLove@ResearchToPractice.net
October 12, 2006