You are here:
Home
:
BCU 6 | 2006
:
Frank A Vicini, MD

Tracks 1-9
| | |
| --- | --- |
| Track 1 | Introduction |
| Track 2 | NSABP-B-39: A randomized study of whole breast versus partial breast irradiation therapy |
| Track 3 | Use of partial breast irradiation techniques |
| Track 4 | Selection of partial breast irradiation techniques |
| Track 5 | Preliminary outcome data from the MammoSite® Breast Brachytherapy Registry Trial |

| | |
| --- | --- |
| Track 6 | Use of partial breast irradiation therapy for DCIS |
| Track 7 | Identification of patients who do not need radiation therapy |
| Track 8 | Trends in use of breast-conserving surgery |
| Track 9 | Intensity-modulated radiation therapy in breast cancer |
Select Excerpts from the Interview
Track 2-4

DR LOVE:
Can you discuss the evolution of partial breast irradiation (PBI)?

DR VICINI: PBI started in the early 1990s with the goal of reducing the treatment time from six and a half weeks to less than four or five days. The initial technique used was brachytherapy, which consisted of the placement of temporary catheters or needles in the breast.
The early experience with brachytherapy was good, and we now have 10-year data showing that the results are roughly equivalent to what one could expect with six weeks of whole breast radiation therapy. The reason why brachytherapy has not been adopted as widely as perhaps we would like is that the technique of brachytherapy is difficult both to teach and to learn.
Approximately five years ago the MammoSite balloon catheter was introduced, which requires only one catheter to be placed at the time of surgery or shortly thereafter. With the MammoSite you're able to deliver the same radiation as with multiple needles in the same short time period.

DR LOVE: Can you talk about the design and eligibility of the NSABP-B-39 trial comparing whole breast versus partial breast irradiation (5.1)?

DR VICINI: To understand the rationale for this Phase III trial, you have to understand that when we began using partial breast irradiation, we selected patients carefully — patients with very small tumors, clear margins and negative lymph nodes. We were trying to determine whether this technique was as efficacious as whole breast irradiation, but we selected only patients at low risk and, indeed, the five- and 10-year results with these low-risk cases have been good (5.2).
However, with the NSABP-B-39 trial, the eligibility criteria have been loosened significantly. We are treating patients with up to three positive lymph nodes and tumors up to three centimeters. We're including multiple types of histologies, not just infiltrating ductal carcinomas. The B-39 trial has been designed to test whether partial breast irradiation could be used for patients at a slightly higher risk or whether it should be restricted to patients with a lower risk. The three partial breast irradiation techniques used in the trial are brachytherapy with the traditional multiple needles, the MammoSite balloon catheter and 3-D conformal external beam radiation therapy.
If a patient is interested in participating in the trial, we first do a prerandomization CT scan. The radiation oncologist, with assistance from the surgeon, will look at the lumpectomy cavity on the CT scan to determine whether a patient is a candidate for partial breast irradiation and then, specifically, which partial breast irradiation technique that patient is qualified for from a technical standpoint.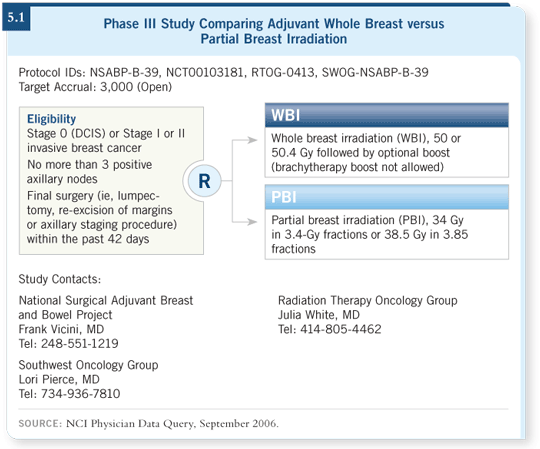 If the patient qualifies for one of the techniques, we let her know; if she agrees to that technique, the patient is then randomly assigned to either whole breast irradiation therapy or that particular partial breast irradiation therapy. If the patient is a candidate for all three partial breast irradiation techniques, then she tells us which one she wants and the randomization is between whole breast irradiation and the technique she's chosen.

DR LOVE: If a patient is eligible for all three techniques, what do you advise her in terms of quality of life and side effects when comparing these three?

DR VICINI: First, we indicate to the patient that we have one technique that's not invasive, whereas the other two techniques are invasive — one being less invasive, meaning only one catheter, and the other one requiring multiple catheters. We then tell the patient that we have the longest follow-up and the greatest number of patients treated with the brachytherapy technique.