You are here:
Home
:
BCU 6 | 2006
:
C Kent Osborne, MD
Tracks 1-10
| | |
| --- | --- |
| Track 1 | Introduction |
| Track 2 | Biologic rationale for the use of anti-HER2 therapy to overcome resistance to endocrine therapy |
| Track 3 | Potential restoration of hormone sensitivity in patients treated with trastuzumab |
| Track 4 | Reliability and accuracy of hormone receptor and HER2 assays |
| Track 5 | ER, PR and HER2 status and response to endocrine therapy |

| | |
| --- | --- |
| Track 6 | Optimal long-term adjuvant hormonal therapy |
| Track 7 | Potential advantages and clinical utility of the Oncotype DXTM assay |
| Track 8 | Hormone receptor status and response to chemotherapy |
| Track 9 | Optimal dose and schedule of fulvestrant |
| Track 10 | Nanoparticle albumin-bound (nab) paclitaxel |
Select Excerpts from the Interview
Track 2

DR LOVE:
Would you discuss your current research interests?

DR OSBORNE: Right now, our main focus is to understand how tumors become resistant to hormone therapy. What we've discovered over the years is that a relationship exists between growth factor receptors and the estrogen receptor pathway (Osborne 2003).
In a sense, these pathways talk to each other and amplify the signals coming from each other. Data from our laboratory studies and from other laboratories are now beginning to be supported by results of clinical studies, which show that one of the ways tumors can become resistant — not only to tamoxifen but also to estrogen deprivation therapies like aromatase inhibitors — is through cross talk between growth factor pathways and estrogen receptors (Osborne 2005).
If that's the case, it might make sense to try and block both pathways simultaneously to get the maximum benefit. If you have a tumor, for instance, that expresses estrogen receptor and overexpresses HER2, our data suggest that optimal therapeutic benefit requires targeting both receptors. You're not going to get a very good result by simply using trastuzumab to block HER2 and leaving the estrogen receptor wide open. Nor would you gain much ground by blocking the estrogen receptor and leaving HER2 wide open, because of the receptor cross talk.
Our group has been trying to see how we can best block those pathways, particularly the HER2 pathway. We found that although drugs like trastuzumab, gefitinib, and lapatinib block the HER2 and EGFR pathways, alone they don't do it optimally. Combinations of those therapies (Shou 2004; [2.1]) are needed to block what are called "heterodyne pairs" that form between different families of receptors.
If we block all the possible combinations, at least in preclinical mouse models for human breast cancer, we can frequently eradicate the tumors. These concepts are now starting to be tested in clinical trials in which we're using combinations of lapatinib and trastuzumab or gefitinib and trastuzumab and another drug that's being developed called pertuzumab.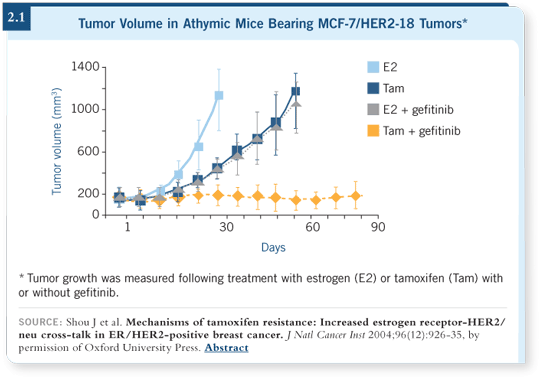 Track 4

DR LOVE:
Can you comment on quality control in assays of estrogen receptor and HER2?

DR OSBORNE: I believe the assays for HER2 and ER are not very good in this country or around the world because they haven't been standardized, nor validated against patients treated in specific ways. By and large only a couple of studies have done this. Many laboratories develop their own assays and use their own antibodies, thinking that their own technique is going to reproduce what others have published, and in fact it doesn't.
This problem is well documented, particularly in the NSABP-B-24 study that randomly assigned patients to tamoxifen or placebo. When the NSABP analyzed the ER assays done in the local hospitals (Allred 2002), we saw benefit from tamoxifen in patients with ER-negative disease (2.2), suggesting false negatives.
When those analyses were repeated in Craig Allred's laboratory, we saw no benefit from tamoxifen in ER-negative tumors determined by his assay and lots of benefit in tumors that were ER-positive. It turned out that 15 to 20 percent of the results were false negatives. That's a big problem when you consider this is potentially curative therapy for a patient with invasive breast cancer.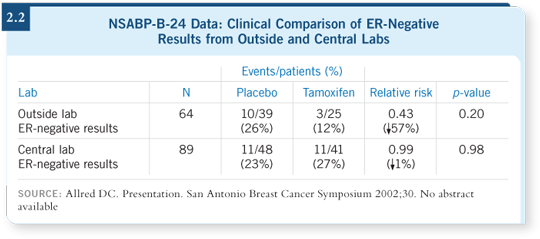 Track 6

DR LOVE:
Could you summarize what was recently reported from the MA17 study?

DR OSBORNE: The interesting thing about what was presented was the falling hazard ratio during the five years of letrozole treatment, which excluded patients who were switched over after the data were analyzed. By the time the study was closed, a number of patients had already been on letrozole for five years — many of them less but some of them for five years.
What they found — and this is potentially very important — was that the hazard ratio or the benefit for letrozole seemed to increase the longer the patient was on the letrozole. Initially the hazard ratio was 0.6, which means that during the first couple of years of treatment with letrozole, the risk of recurrence was reduced by about 40 percent. By the fifth year, it was down to about 0.2 — a tremendous reduction in the risk of recurrence for the letrozole-treated patients (Ingle 2005; Goss 2005a; [2.3]).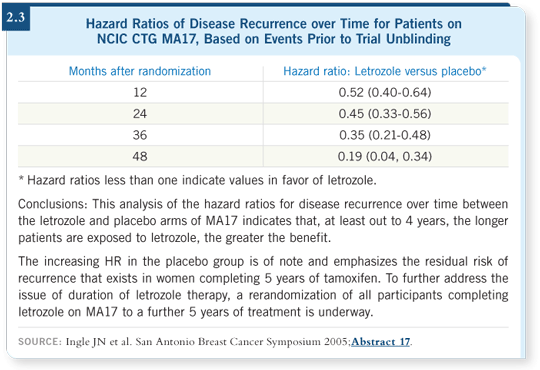 Track 7

DR LOVE:
What are your thoughts about the Onco
type
DX assay?

DR OSBORNE: I believe the Oncotype DX is well done — well standardized and well validated. It produces good results. For laboratories that don't perform a high volume of assays, where estrogen receptor and HER2 assays are not reliable, the Oncotype DX would provide a much more reliable estrogen receptor test, because the estrogen receptor is such an important part of the generating signal.
So for institutions that don't measure these things very well, I believe they should use Oncotype DX. In terms of trying to decide who has a worse prognosis and who might need to have adjuvant chemotherapy for a small, node-negative tumor, I believe the Oncotype DX can be helpful.
Track 10

DR LOVE:
What are your thoughts about
nab
paclitaxel?

DR OSBORNE: In some ways, I believe nab paclitaxel is a little safer (2.4) compared to the other taxanes. I'd be interested to see how it does, for example, combined with trastuzumab for HER2-positive disease or combined with other chemotherapy regimens to see if the hint that it might be better in the metastatic setting plays out in the adjuvant setting.
The attractive thing about it is that you don't have to administer premedication. For patients who are on this drug for a long period of time, that's a big advantage. Dexamethasone premedication can cause its own side effects. I haven't used nab paclitaxel all that often yet, but I like it and I'm anxious to see how it's going to be incorporated earlier in the management of the disease.